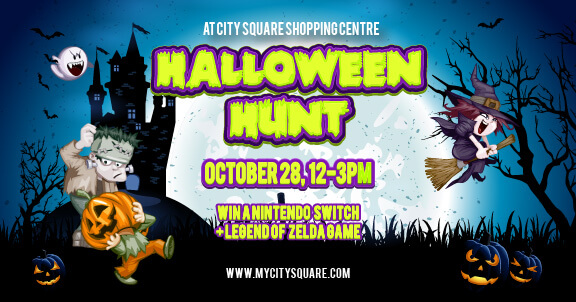 JOIN US FOR OUR ANNUAL HALLOWEEN HUNT! Enjoy Trick-or-Treating, Cookie Decorating, Face Painting, a Magic Show and Enter for a chance to win the Grand Prize a Playstation 4 Pro.
Date: Saturday, October 27th, 2018 from 12:00 pm ? 3:00 pm
We will be providing fun and FREE activities for children (up to 14 years of age) to enjoy, including:
Trick-or-Treating at participating retailers (peanut free options are available while quantities last).
Prize station for all completed Halloween Hunt maps ? Maps have to be picked up at our food court from 12-12:30 pm (or while quantities last). Fully completed maps must be returned by 2:30 pm to receive your Halloween reward and ticket to Enter for a chance to win one of several runner-up prizes. The Trick-or-Treat draw takes place at 2:45 pm or after the end of the last Magician Show.*
Magic Shows will be taking place at the following three (3) times: 12:30 pm; 1:15 pm & 2:00 pm.
Face Painting from 12:00 pm-2:45 pm courtesy of Blanche Macdonald.
Professional Family Portraits from 12:00pm-2: 45 pm by Sombilon Studios. **
Cookie decorating from 12-2: 45 pm: by donation. All proceeds going to Canuck Place Children?s Hospice. A minimum donation of $2 per cookie.
*You must be present to claim your prize. Participants must be under the age of 14 to qualify for prizes and must be accompanied by an Adult. One entry per person. A big thank you to our generous tenants!
** You will receive two (2) downloadable complimentary digital high-resolution images. Don?t miss this chance to beautifully capture some awesome Halloween memories. Bring in your costumes!
*PLEASE NOTE: Our family events have been more successful each year. We encourage everyone to come early to enjoy all the free activities. Quantities being offered for this event are limited and allocated on a first come first serve basis while quantities last. Drop-in event.