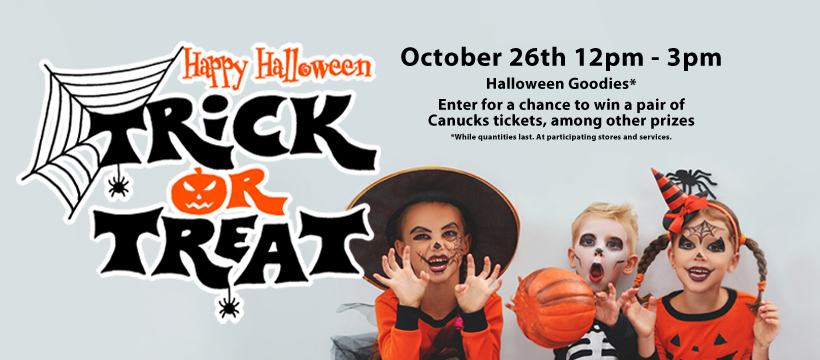 Woooo, ghost, witches, and all things spooktacular. Halloween is here! Join us at the 14th Annual City Square Trick or Treat Hunt for a chance to win some amazing prizes! This will be a Rain or Shine event. Free admission!
Some major prizes include:
– A pair of Canucks Hockey Tickets (valued at $800)
– Razor Power Core E90 Electric Scooter (valued at $250)
Registration for the Trick or Treat Hunt will begin at 12pm in the Food Court, close to A&W. Maps and complementary parking will be given between 12pm-2pm or until we run out of maps.
We will also be providing fun activities for family and children of all ages to enjoy:
– Trick or Treat Hunt (at participating retailers) with you map, visit the participating retailers to get a yummy Halloween treat and map stamped. Completed maps have to be returned by 2:15pm at the registration table to be placed in our 2019 Halloween Extravaganza Draw. Draw takes place on stage at 2:30pm or after the end of the last Magic Show. You MUST be present to pick up your prize! Participants must be under the age of 12 to qualify for prizes and be accompanied by an adult. One entry per child.
– Family Portraits by donation offered by Sombolin located in their studio in Unit 126 on the Upper Shops. All proceeds raised will be going toward Canucks Place Children's Hospice. Minimum donation of $2 per family.
– Free Face Painting from 12pm to 2:45pm with Blanche MacDonald makeup students
– Magic Shows by Norden the Magician at 12:15pm, 1:15pm, & 2:15pm
– Popcorn Station from 12pm-3pm, by donation. We will be fundraising for Canucks Place Children's Hospice, all proceeds raised will be going toward Canucks Place Children's Hospice (www.canuckplace.org). Minimum donation of $2 per bag of popcorn.
For more details, please visit our website at www.citysquarevan.com/city-square-vancouver-events.html
PLEASE NOTE: Our
family events are more successful year after year and we always encourage
everyone to come early to enjoy all these free activities. Quantities being
offered for this event are limited and allocated on a first come first serve
basis, while quantities last. Drop-in event.